Skip to content
Skip to navigation menu
You have setup the following Repeat Order: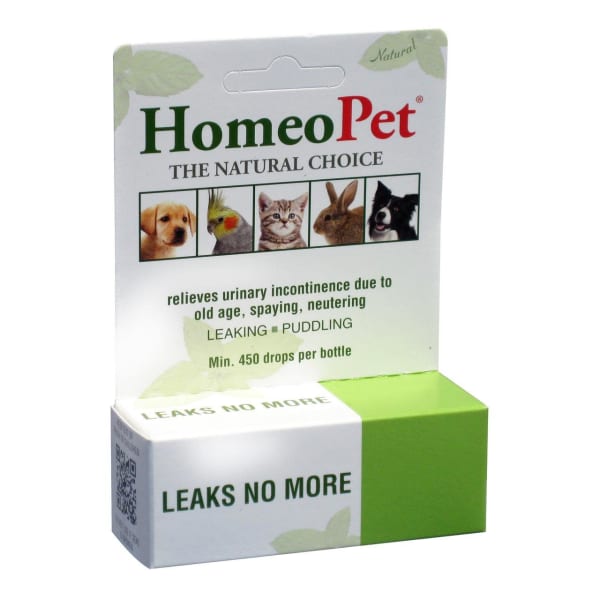 Homeopet Leaks No More Fast-Acting Liquid
Homeopet Leaks No More Fast-Acting Liquid
Homeopathic Leaks No More remedy provides support for urinary incontinence or leaking that occurs in older pets, and spayed females/neutered males. For the relief of: Urinary incontinence...
Read more
Homeopet Leaks No More Fast-Acting Liquid
Back in stock notification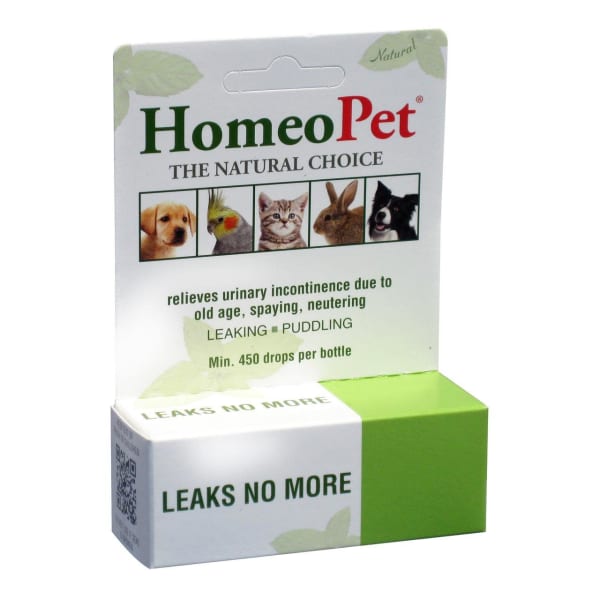 Homeopet Leaks No More Fast-Acting Liquid
Homeopet Leaks No More Fast-Acting Liquid
Enter your name and email address below then select which items you would like to be notified of when available.
Product details
Homeopathic Leaks No More remedy provides support for urinary incontinence or leaking that occurs in older pets, and spayed females/neutered males.
For the relief of:
Urinary incontinence
Leaking
Puddling caused by: old age, spaying, neutering
Optimally, the liquid preparation should be dropped directly into the mucous membrane of the mouth including lips; ideally in dogs by pulling out the labial pouch, and in cats by raising the head until the mouth opens.  Where an animal finds this distressful, or an owner is unable to comply, the product can be put in the food or water.  Where animals are sensitive to the odor of the alcohol preservative, a 10-20 minute period should be allowed for dilution and evaporation before the liquid or food is presented to the pet.  Occasionally, animals will shake their heads as a response to the alcohol preservative; cats may salivate excessively and in these cases, presenting it in food or water works.
Ingredients
Plantago Major (Plantain), Gelsemium (Yellow Jasmine), Sempervivum Tectorum (Houseleek), Cantharis (Spanish Fly), Causticum (Causticum), Alumina Silicata (Oxide of Aluminum). All ingredients are 6 & 30c in 20% USP alc. in purified water.
Warnings
Please be advised this product is a homeopathic supplement only, not a medicine and should not be used as a substitute for veterinary care. please seek advise from a specialist if symptoms persist or worsen. 
None known, other than reversible effect of  overuse. Over-usage will result in a return of signs after the signs have initially disappeared. Where either increased anxiety or a return of signs occurs while on the product, ceasing to use it will alleviate the effect. Pets who are hypersensitive to homeopathic preparations will show response to a single administration, which may not need to be repeated for some time.  For this reason usage should always start with a single administration and should a major response be seen, use should not be recommenced until signs relapse, and then only a single administration given for maximum effect. Although there is no evidence that there are any safety issues, extra care should always be taken when dealing with pregnant animals. Should a suspected adverse reaction be seen or advice needed, please contact HomeoPet LLC.
Feeding Guide
Feeding Guide:
Once in the morning, evening and bedtime, administer the following amount per pet's weight:
-Under 20 lbs: 5 drops.
-20 - 100 lbs: 10 drops. 
-over 100 lbs: 15 drops
Under 1lb:  All pets under 1 lb should have 2 drops in the drinking water daily.
Pills and tablets are very difficult to administer to almost all animals, so HomeoPet developed a liquid delivery system that is easy to give directly into the mouth, on food or in water. The best results are achieved by giving directly into the mouth or alternatively on a small amount of food or in a small amount of water. 

Acute cases: Those that have a sudden onset, like thunderstorm anxiety or a traumatic injury. A dose can be given every 15 minutes for the first hour and then three times daily until improvement is seen.
Chronic cases: Chronic cases like  or incontinence often require a continued maintenance program. Maintain recommended dosage until improvement is seen and then gradually reduce dosage to a minimum level that maintains desired result. Repeat original dose with flare-ups.
Once a response is seen, administration should be reduced to 2 times daily and eventually once daily.  If reduction causes signs to worsen, original amount may be continued a little longer before reducing.  If a remedy is working well and the amount is not reduced, an aggravation of signs from overuse may occur.  
Stopping the remedy for 3 days will reverse the signs, and then giving the product can begin as if using for the first time, weaning down as mentioned above.
Customer reviews
Product reviews are filtered by language.
The following reviews are available in English.
No more leaks

I bought this 2 weeks ago but unfortunately doesn't work for my dog, she is still peeing in her sleep and and control her peeing

Saved our carpets and Bens dignity!

My 19 year old dog was peeing on waking and leaking as he walked around. He's been on this for 4 days now and we can see (and smell) a difference already! The leaking seems to have stopped and no more wet patches on the carpet. He actually makes it outside now before peeing! This has really saved our sanity and Bens dignity! Just purchased more as never want to run out!

Somewhat effective but very expensive

This has reduced my ageing neutered female dog's incidents of sleep incontinence, but it's no miracle cure! It also gets very expensive if you have a larger dog, because of the large dose required.

No leaks no more

So sorry this did not work at all my dog showed no improvement at all

Great product. Works well and is natural.

I have an 11 year old spaniel. She started leaking about a year ago, mainly when she was sleeping. I wanted something natural so thought I would try Leaks No More. I am thrilled with the results. I give her 10 drops daily, straight into her mouth, and the results have been amazing. It's not a miracle cure so, she does occasionally have the odd leak (maybe once a week) but, overall, it's great.